Adding a new bathroom floor is one of the best ways to transform your bathroom. But there are many more things to consider when choosing bathroom flooring compared to flooring in other areas of the home.
A bathroom floor needs to be able to withstand water and be durable enough to keep up with the wear and tear of daily use, not to mention, easy to clean too.
Installing the correct bathroom flooring the first time will save you money and time down the road.
Tile
Tile is one of the most durable and popular choices for a bathroom floor, especially porcelain and ceramic tiles. They are excellent for wet environments and they are generally easy to keep clean.
This flooring option can increase property value when installed correctly with a modern pattern. Smaller tiles can be great for adding accents or patterns to your bathroom. However, more grout lines will take longer to clean.
Porcelain and Ceramic Floor Tiles
Both tiles are made from clay that is put in a kiln at a high temperature. However, porcelain tiles are made from more refined clay and are fired at a higher temperature, making them more durable than ceramic tiles.
This also makes porcelain tiles harder and less porous, leading to less water absorption.
However, a great benefit of ceramic tile is that they are much more cost-effective, costing up to 60 to 70% less than porcelain per square foot.
This can make a huge difference in total cost, especially if you are tiling a larger bathroom.
You can't go wrong with either tile in your bathroom but in general porcelain tiles are the superior choice when it comes to bathroom floors because the material is better equipped for rooms that have plumbing.
Tile Pattern and Color
One of the greatest things about tile is that the colors and patterns are endless. Encaustic tiles are an excellent way to play with patterns and add character to your bathroom.
Large, bold patterns have become increasingly popular in recent years.
In contrast, to add an artistic touch to your bathroom, mosaic tiles are an easy way to incorporate color and character into bathroom flooring.
Boost The Sense of Space With Large Format Tiles
If you are looking to tile a small space, choose your tile wisely. Some may think a small bathroom means choosing small tile.
However, this is not the case. In fact, more grout lines cause more division in the bathroom, making it appear smaller. Opt for large rectangular tiles for the best look.
Tile Installation
Although it sounds like simply laying mortar, placing tiles, and finishing off with grout, installing tile requires many steps for prepping the area and it can quickly get messy.
It is also extremely important that you lay tiles evenly the first time because you won't be able to fix mistakes once the mortar has set.
When installing tile, there are many areas where things can go awry and we recommend working with a professional for installation. It will be well worth the price.
However, if you are still interested in laying your own tile, it is imperative that you read detailed step-by-step instructions.
Vinyl Flooring Options
Vinyl flooring is an excellent choice for bathrooms. It is a moisture-resistant, durable choice and makes for easy cleaning.
Another benefit to vinyl flooring is that it comes in a variety of options that are well-suited for bathroom flooring: luxury vinyl tile (LVT), luxury vinyl plank (LVP), and sheet vinyl.
Luxury Vinyl Tile and Luxury Vinyl Plank
Luxury vinyl flooring has become increasingly popular in recent years, and for good reason. They imitate the natural beauty of wood and tile at a fraction of the cost.
They are waterproof, cost-effective, and come in a variety of colors and designs. (Take note that although the planks are waterproof, it is possible for standing water to seep between the planks and into the subfloor, which could lead to damage.)
The biggest difference between luxury vinyl tile and luxury vinyl plank is style. LVT is designed to look like tile or stone and comes in different dimensions, whereas luxury vinyl plank is made to look like real wood planks.
These floors are versatile, look great throughout a home, and offer continuity from the bathroom floor to other rooms. However, one drawback of luxury vinyl flooring is that it can feel hard underfoot due to the material in the planks.
Installation
Installation for LVT and LVP is relatively easy because of its puzzle-like clicking pieces. They are also floating floors, so no glue or adhesive is required and prep work is minimal.
You'll need a few tools but it is a project many homeowners complete themselves.
Sheet Vinyl
Sheet vinyl is nothing new and has a lot to offer. However, it sometimes carries a stigma of being cheap and being used in cheaper homes. There are options today that look much nicer than the traditional styles that come to mind for most people.
Sheet vinyl flooring has the benefits of luxury vinyl flooring. It is more affordable and comes in a variety of color schemes and design patterns. Another great thing about sheet vinyl is that it feels softer underfoot, unlike LVT and LVP.
Due to its high scratch resistance and durability, it's not likely that you'll run into issues after proper installation.
But, one drawback to sheet vinyl flooring is that you cannot make easy repairs like you can with LVT and LVP since it does not have planks to remove and replace.
Installation
Coming in one large sheet, and very different when compared to luxury vinyl flooring, installation can be tricky.
It requires precision as the one sheet of vinyl flooring must fit around vanities, bathtubs, toilets, and any other fixtures in your bathroom.
Keep in mind, if you make a big enough mistake on your cuts, you will have to get another sheet of vinyl.
Can You Install Laminate Flooring In Bathrooms?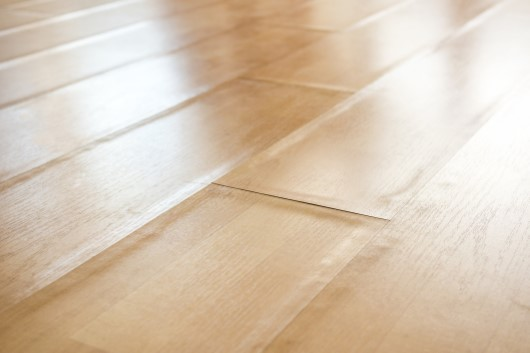 Technically, you can, but it will require taking extreme care to immediately dry up any water on it. Laminate flooring is not completely waterproof because the core of the flooring is made from wood fibers.
Water will cause noticeable swelling and bubbling on your planks. Once laminate planks are damaged by water, they cannot be repaired, but individual planks can be replaced.
Most of the time, the upkeep of laminate flooring in a bathroom is more work than what most people want.
However, if you want to install laminate flooring in a bathroom, be sure to use a durable brand, such as Pergo, that is more water-resistant.
Additionally, you have a little more leeway in a half bathroom that sees significantly less water without a bathtub or shower area.
Key Takeaways
Choosing a new bathroom floor can be a fun and exciting process, albeit, one that should be made carefully. Water resistance should be a top priority when deciding on bathroom flooring to ensure that it lasts for years with no issues.
There are many great flooring materials on the market that offer endless patterns colors and designs.
Tile, luxury vinyl flooring, and sheet vinyl are excellent choices when it comes to bathroom flooring ideas. Their water-resistance gives them the ability to withstand wear and tear and last for years.