Ideal for many projects, both eggshell and satin paint are highly recommended across the board for interior spaces. But what's the real difference between them? What makes one better than the other?
Before we examine the differences between eggshell and satin, there are typically 5 paint sheens: flat or matte finishes, eggshell, satin, semi gloss, and high gloss.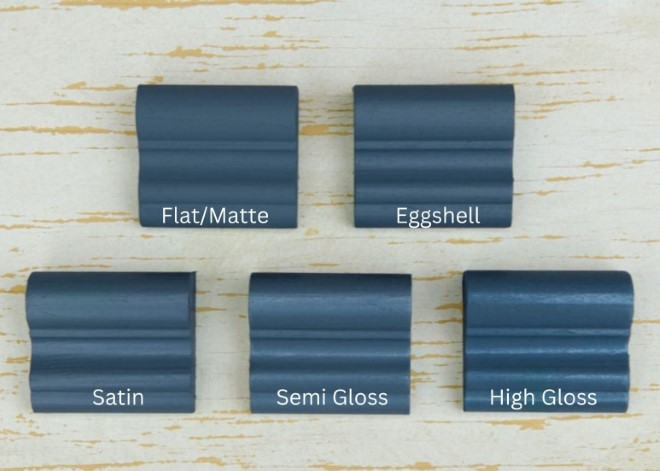 In this article, we'll compare eggshell and satin finishes by taking a closer look at sheen, their ability to conceal flaws, durability, cleaning capabilities, and cost.
Sheen
On the sheen spectrum, eggshell paint finish has a slightly lower shine than satin. As the name suggests, the glossiness of this finish is similar to an eggshell. It's not completely matte and has a little luster to it.
Satin on the other hand has a slightly noticeable shine because it reflects more light in general.
Because both eggshell and satin sheens are excellent throughout homes and for projects, if you have a strong preference toward one or the other based on appearance, choose the one that you prefer.
Concealing Flaws
Bumps, scuffs, and small holes are bound to happen around the home regardless of how careful you are in your day-to-day living. The glossier the finish, the more noticeable existing blemishes will be.
If you are very concerned about surface imperfections or are wanting to lessen the visibility of a textured wall, your best option is probably a flat or matte sheen.
Eggshell
One of the biggest benefits of low sheen paint finishes is that they are better at concealing existing imperfections such as small holes, scuffs, and textures.
The low reflectivity in eggshell finishes allows for better camouflage of surface imperfections.
Lower sheen paints also handle touch-ups better, making them ideal for places that may need more frequent attention. This makes eggshell or matte finishes a perfect choice for rental properties.
Satin
Satin, on the other hand, does not conceal wall imperfections as well as eggshell. Touch-ups are more likely to stand out too. In fact, the higher the gloss, the more noticeable blemishes will be. But, that's not a reason to dismiss glossy finishes. With more gloss, comes more durability.
Durability
Higher sheen paints come with added durability. Although eggshell paint is great at hiding initial imperfections, satin paint can withstand more scuffs and wear and tear of daily living.
If you're not sure how much durability you need, think about the busyness of your home. If you have lots of high traffic areas in your home, children, or pets, the added durability of a satin paint finish might be the better choice.
Cleaning
Aside from flat/matte paint, all other sheens are easy to wipe clean. Due to resins in the paint, the higher the gloss, the easier it is to clean. Warm water and a soft rag should be all you need for light cleaning.
Cost
For most brands, a satin finish is between $3-5 more per gallon than eggshell finish. Although it isn't much per gallon, keep the size of your project in mind, and remember that many paint brands recommend 2 coats of paint.
Conclusion
Choosing the perfect finish for your home or project doesn't have to be difficult. Eggshell and satin sheens are both excellent to use throughout a house.
Both wash easily and have the durability to hold up against everyday wear and tear. One of the great benefits of eggshell is that it hides surface imperfections better than satin paint. However, satin's slightly higher sheen lowers the likelihood of scratches and scuffs.
Finally, because both are great choices, it's important to consider your personal preference when it comes to the glossiness of either sheen. After all, you're likely going to be looking at it every day!