Updating your front porch is a quick way to add instant curb appeal. With a little work, you can give your front porch an entirely different look.
Boosting your home's curb appeal by focusing on the front porch can be very versatile. For people with a green thumb, adding flowers and greenery is simple. For less upkeep, there are lots of low maintenance options.
Before you get started, consider your porch design and possible limitations. Make sure you do your research on the estimated cost for your project.
Plan your color scheme, and be sure to take porch measurements before purchasing any furniture. Porch size plays a huge role when updating a front porch.
Highlight Your Front Door
Your front door is the focal point of your porch. A little paint can go a long way in giving your porch a new look.
Renovating the front door is one of the best ways to give your porch a new look with minimal effort. It is also a great way to quickly transform small porches.
While you're already working on your door, replacing hardware is an easy project. Before purchasing hardware, consider your home's aesthetic and choose a finish that coordinates well.
Lighting
Brightening up your front porch does more than add curb appeal. Proper lighting can give your home an inviting glow from the street, not to mention, that it helps guests get to and from your house safely at night.
However, it is also great for deterring uninvited visitors. If you are already repairing outdoor lighting, it would be a great time to install additional motion-detecting lights.
Lighting is a quick fix that can be as simple as replacing burnt-out lightbulbs on your existing light fixtures. For a more involved project, you can look into replacing old fixtures altogether and installing modern ones.
Look for light fixtures that complement your new door hardware if you have decided to replace them.
Painting
Even with the best paint job, at some point, the paint on your porch will need attention. It's amazing what a little paint can do when it comes to creating great curb appeal.
Filling in areas of chipped paint with a fresh coat can give your front porch an entirely different look. Paint color can completely transform your porch.
Invest in Outdoor Seating
Although outdoor furniture can be pricey, creating an outdoor living space can give an inviting entrance to your home.
Adding a porch swing, rocking chairs, or colorful pillows to a seating area gives your porch a personal style. It also provides an extra gathering area when hosting friends or guests.
Add House Numbers
Adding visible house numbers to your door or the surrounding area not only gives your home's exterior a polished look but is helpful for street visibility and mail deliveries.
Placing house numbers on a porch post is a unique way to fill what would otherwise be empty space.
Floor Mats and Rugs
Most people stop at a single welcome mat, but layered rugs and mats create another area to incorporate your personal style.
You can change your top and bottom mat seasonally, or invest in a sturdy top mat and use a seasonally inspired mat underneath it.
For a large porch, you likely have space for an outdoor rug. Choosing a rug that complements your door or outdoor furniture is the perfect way to give your entrance a unique look.
Landscaping
Landscaping is one of the best ways to boost your front porch appeal. Overgrown shrubs, weed-filled flowerbeds, and dead potted plants are definite things to avoid.
To start, it gives your house an unkempt look from the street. On top of that, shrubs and plants blocking a pathway to your porch are unpleasant to any guest, and many plants attract insects.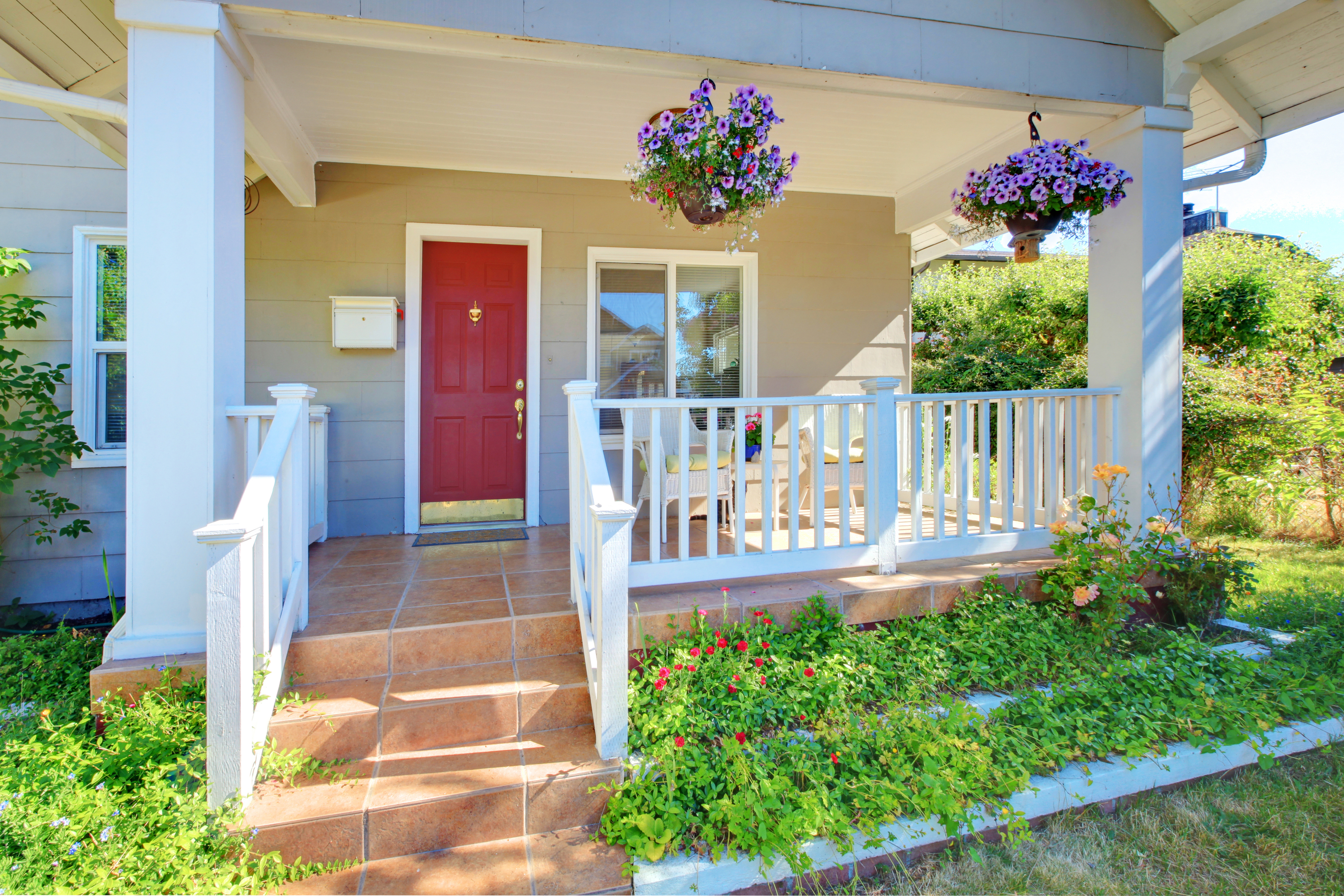 Flower Beds
If you already have established flowerbeds, start by weeding and trimming up any overgrown shrubs. If you need to replace dead plants or dislike the existing ones, be aware of upkeep, as some plants require more maintenance than others.
If you are not interested in adding plants or flowers to the garden bed, filling them with decorative rock is a low-maintenance option.
Potted Plants and Hanging Baskets
Trailing flowers are beautiful and are perfect potted or hanging. Both options are a great solution for adding greenery to a small porch.
Ground planters can be set to the side of the porch leaving the porch open and giving it a wider appearance, while hanging baskets leave the ground area clear and out of the walkway.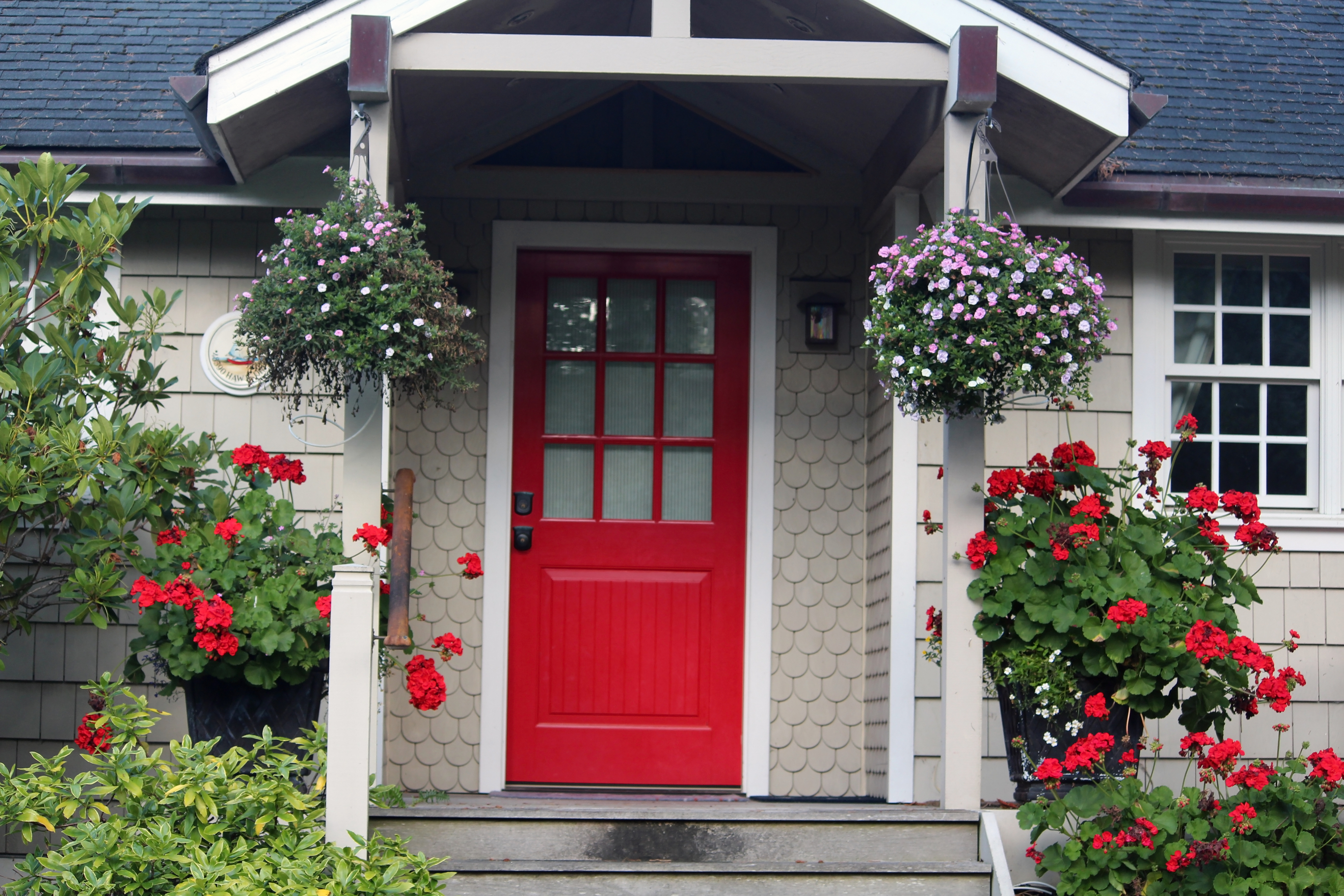 Front Porch Decor
The right details can make a huge difference when boosting curb appeal with your front porch. Adding a pretty wreath, outdoor pillows, signs, and trinkets allows you to decorate easily for each season. These give the final touches to an eye-catching front porch.
Final Thoughts
There are many options when it comes to updating your front porch. From simple fixes such as changing lightbulbs to more involved projects, updating your front porch adds instant curb appeal. Whether you have a large or small porch, these ideas are sure to make your porch stand out!