Installing new flooring can be a big, often pricey, project and there are many benefits to each type of flooring.
Why install laminate and vinyl floors instead wood floors? How do they compare to hardwood floors? In short, mostly price. Hardwood floors and engineered wood floors will increase the value of your home but can cost twice as much as installing laminate or vinyl plank flooring.
Vinyl and laminate flooring are both excellent, cost-effective options when adding a new floor. But, how do the two compare overall?
Comparing Luxury Vinyl Flooring to Laminate Flooring – The Big Picture
Vinyl flooring and laminate flooring are both great flooring materials. They are affordable and floor texture images are constantly improving and becoming more realistic.
Laminate flooring and some vinyl flooring have similar and simple installation, making it a project many homeowners feel they can accomplish on their own. Both floors are also scratch resistant and durable.
When contrasting the two, laminate flooring is known to have better image quality printed on top than vinyl, giving it a more realistic look. However, one of the best things about vinyl flooring is that it can handle water substantially better than laminate.
What Is Vinyl Flooring?
Vinyl floors are completely synthetic making them waterproof, meaning that the vinyl flooring itself will not be damaged by water, unlike laminate floors. (However, water seeping through planks to the subfloor could cause issues.)
Another great thing about vinyl is that it has many variations. Luxury vinyl plank (LVP) and luxury vinyl tile (LVT) are floating floors that click together making installation easy. You can also find sheet vinyl and vinyl planks that are glued down.
Luxury vinyl plank, which is the vinyl we will mostly focus on, has become increasingly popular, with good reason too. It still offers all the benefits of vinyl flooring, but with the look of wooden planks.
LVP is a floating floor and installation is something that many homeowners feel comfortable completing on their own due to the simple locking mechanism of the planks.
What Is Laminate Flooring?
Laminate flooring is composed of layers and contains wood fibers. Due to the thicker composition and wood interior, some people prefer laminate because it has a softer feel than LVP.
Laminate flooring has a reputation for better quality imaging and more realistic textures than vinyl flooring. In fact, appearance is one of the main benefits to laminate flooring. It is also a floating floor, making installation just as easy as luxury vinyl planks.
One of the biggest drawbacks to laminate flooring is how it handles water. Because it is composed of wood fibers, when it is exposed to standing water, the wood fibers will swell and cause noticeable damage to your flooring.
Maintenance and Care
Although vinyl and laminate flooring are designed to be scratch-resistant and durable, proper care is still key to making your floors last for years. For both laminate and vinyl flooring, it is important to use floor protectors under heavy furniture.
Water Resistance
When exposed to water, LVP is unaffected because it is made of synthetic materials, making it a much better choice in areas of the home that may see more water. In fact, many companies claim that their luxury vinyl plank is completely waterproof. Although it is likely true, know that with large amounts of water or standing water, it's possible that it could leak between the seams of the planks and cause swelling on a wood subfloor.
One of the biggest drawbacks of laminate flooring is its inability to handle water. Most laminate flooring will be damaged by standing water and repeated moisture. It is not usually waterproof, although companies are developing more water resistance options. Laminate will require a little more mindfulness with it comes to cleaning.
Heat and Environment
Both laminate flooring and LVP flooring materials will expand and contract with changes in temperature and humidity. Expansion gaps are essential when installing either of these floors.
Scratch Resistance
Both laminate flooring and luxury vinyl planks are advertised as scratch resistant. However, the protective layer coating the top of the floor will be the determiner of which floor is most scratch resistant.
Vinyl planks are measured in mils, a unit used to measure the thickness of plastic films. To get a better idea of the actual thickness, a thin plastic grocery bag is about half a mil, and a credit card is around 30 mils.
Vinyl planks range from 4 to 20 mils. In the flooring industry, 12 mils or more is considered commercial grade.
Laminate flooring uses its own scale for measuring durability, the Abrasion Criteria Rating, based on the top layer of protection. This rating doesn't translate across other materials, but the scale ranges from 1 to 5, with anything above 3 being commercial grade.
Where Can You Install Luxury Vinyl Plank and Laminate Flooring?
The area and usage of the room you are looking to refloor will be the biggest determining factor when it comes to installation. It is important to consider your household and the daily wear and tear your floor would be facing.
LVP Recommendations
Luxury vinyl plank flooring is more versatile than laminate. It can be installed in a variety of rooms, including kitchens and bathrooms. LVP is a great option if you are wanting to have a consistent floor throughout many areas of the home.
The biggest drawbacks to luxury vinyl plank flooring are that patterns and images look more artificial than laminate and it can feel hard and uncomfortable to walk on barefoot, leading many people to avoid using LVP in bedrooms.
Laminate Recommendations
Due to laminate's high-quality imaging, it is a great choice if you are flooring an area like a living room, where flooring is more noticeable. Continuing laminate flooring down hallways and dining rooms give a beautiful flow to the home.
One area to take into consideration is the kitchen. Kitchens need more frequent cleaning and mopping than other areas of the home and are more likely to have frequent spills. Think of things like pets and small children that could leave areas of standing water. However, for some, laminate flooring could be fine in a kitchen.
Areas to avoid laminate flooring are bathrooms, laundry rooms, and utility rooms due to moisture.
Installation Process: Laminate vs Vinyl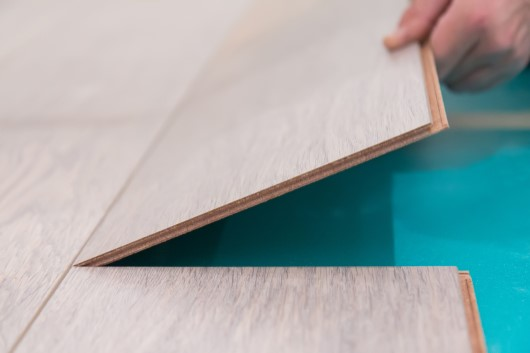 Luxury vinyl and laminate flooring are floating floors, meaning no glue or nails are needed. Vinyl plank flooring requires fewer tools than laminate, but both have similar and easy installation because of their locking design.
Planks snap into each other with a soft tap from a mallet and tapping block. This process makes it quick and simple with much fewer steps and materials than a non-floating floor.
Cost
Both options are cost-effective and affordable, and many times sit around the same price range. However, when it comes to high-end flooring, LVP can be much more expensive than laminate due to material and production costs per square foot.
Ease of Repair
Both laminate and LVP have simple ways to fix damages on your floor. You can easily touch up scratches by purchasing a floor repair kit.
In a few hours and a little careful maneuvering, you can also remove the damaged plank and pop in a new one, making your floors look good as new.
Resale Value
You will not see the return on investment with either of these floors the way you would with real wood flooring. High-quality laminate can add slightly more value to your home than vinyl flooring but neither laminate nor vinyl flooring will hurt the resale of your home.
A low return on investment is not a reason to shy away from either of these floors. They're practical and affordable. If you are going to sell your home and have a damaged or unsightly floor, installing a new LVP or laminate floor is a great way to entice potential buyers that are not looking for a fixer-upper.
Is Laminate Flooring or Vinyl Flooring Better for Your Home?
When it comes down to it, laminate and vinyl flooring pros and cons are based on your specific flooring project.
Laminate flooring is well known for its beautiful textures and realistic wood patterns, however, it is not a good fit for rooms that will see consistent moisture or lots of water.
Luxury vinyl plank, on the other hand, is much more versatile and can be used throughout homes, even if there is consistent exposure to humidity. Drawbacks to LVP include feeling harder when walking barefoot and lacking a natural wood look.
Overall, it is important to consider your specific project when choosing your flooring material and weigh the pros and cons of laminate and vinyl flooring!