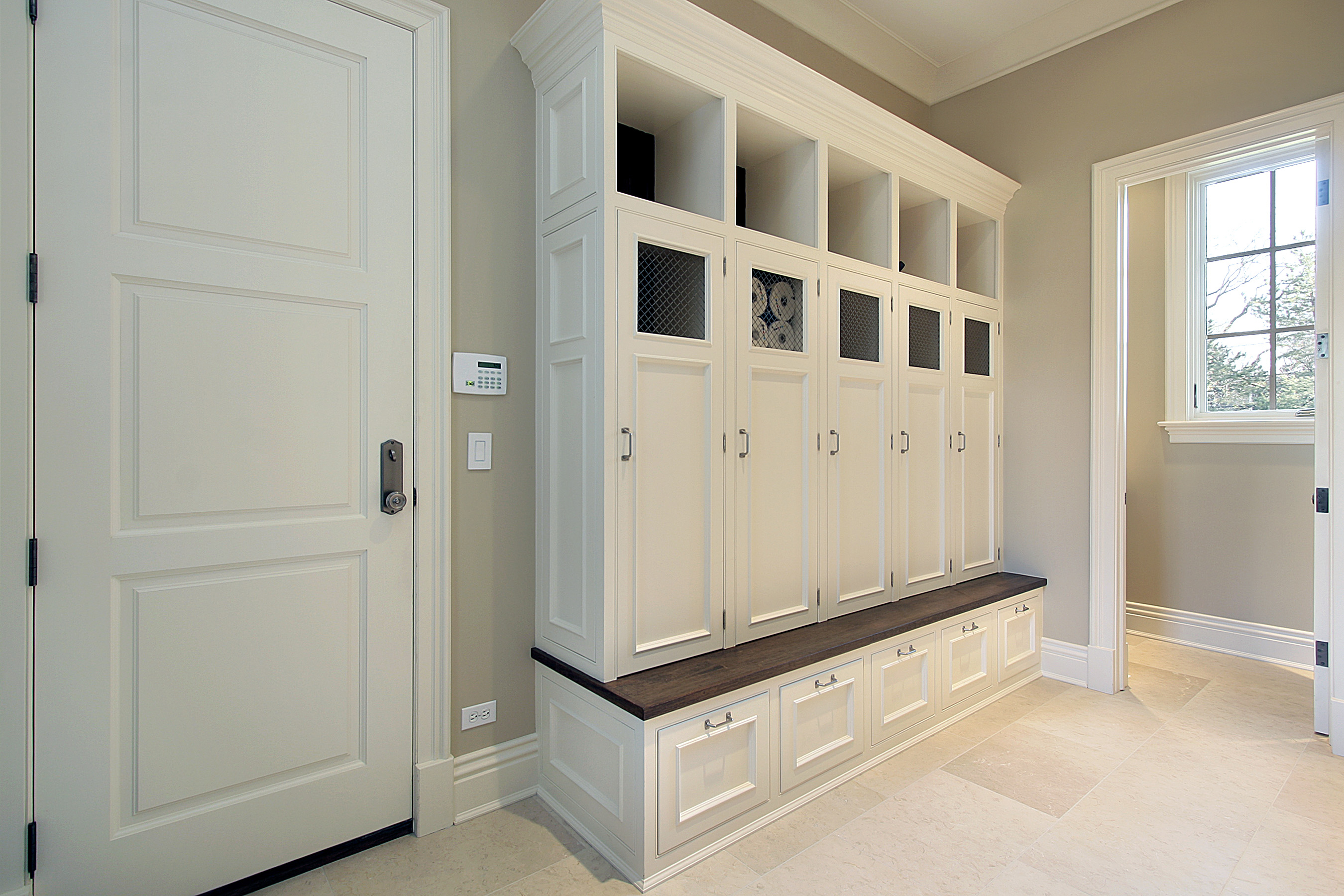 Mudrooms are typically a home's casual second entrance, sometimes as a small room, hallway, or shared with a laundry room, often leading to the garage. Having this second entryway is, at the very least, practical.
There are many benefits to having a mudroom or designated entryway, such as added storage and convenience. And, while some houses have a large space, something as small as a mudroom bench in a narrow hallway makes a huge difference in creating an organized drop zone for coats, shoes, and bags.
Mudroom Bench Storage Unit
This DIY bench and storage is an excellent use of space around an entryway. Keep everything you may need to "grab and go" out of sight, but neatly organized in this design.
You can shop for individual furniture pieces to create your custom mudroom bench. Additionally, you can choose baskets, decor, and other accents to bring together the whole area!
Corner Mudroom Bench
For small spaces, a few square feet of storage makes all the difference. A simple seat, storage cubbies, and an upper shelf create the perfect little nook for coming and going.
Mudroom Bench With Beadboard Paneling
One of the great things about beadboard is its durability. This makes it an excellent choice to use with your mudroom bench, as the area will see a lot of day-to-day traffic.
Painting the beadboard is a great way to add color to your mudroom, or keep it white to accent a painted room.
Shiplap Mudroom Bench
White shiplap brightens even the smallest mudroom. Shiplap is a great neutral wood accent that compliments just about any room.
Mudroom Bench With Extra Storage
For busy homes, extra storage is a must. A built in bench with large storage cabinets gives ample space for coats, shoes, and more.
Add A Bench
For renters, or homeowners who aren't ready to make permanent changes, adding a simple bench gives your entryway the functionality you've been looking for.
Mudroom Bench With An Accent Wall
Make any small mudroom chic with a minimalist bench, a dark accent, and contemporary gold hardware.
Use All Available Wall Space
When installing mudroom benches, it's a great opportunity to take advantage of the entire wall space. Additional shelving and hooks connected to your bench add storage from floor to ceiling.
Mudroom Storage Bench with Wicker Baskets
Wicker baskets are a stylish solution for containing shoes, gloves, or anything that is not easily hung. Set baskets on the floor under the mudroom bench, or move them to an upper shelf for more floor space.
Mudroom Bench with Shoe Storage
Avoid the mess of a shoe closet with shoe shelves. These cabinets make shoes easy to organize and easy to find.
Add A Matching Barn Door
Wood dividers on your bench give everyone their own designated space. Make the room feel complete by adding a wood barn door to match your storage bench!
No Room? No Problem.
Not all homes were built with a mudroom. In fact, many of the Pinterest-worthy mudrooms are newer builds or remodels.
Don't be discouraged if you don't have a room. Something as simple as a free-standing bench, coat hooks, and a little storage create the perfect casual entryway to your home.
Install A Hook Board
A narrow space doesn't have to stop you from a functional mudroom. Adding hooks makes it easy to stay organized. From backpacks to scarves and coats, hooks are the perfect solution to keep frequently used items tidy and accessible.
Key Takeaways
Options are endless when it comes to transforming any mudroom when you use a mudroom bench. A built in bench with lots of storage makes the perfect drop zone for a busy family. While a small mudroom bench with hooks, cubbies, and a shelf keeps the area easy to organize.
Mudroom benches are a great way to add storage and style to your home. Spruce up your mudroom with these ideas to create the perfect functional area in your house!