Many people would love to have a large and beautiful outdoor living space, whether it's for entertaining guests, or for personal enjoyment. However, on the long list of "must haves" for homeowners and renters, spacious and inviting decks usually don't rank high enough on the list of needs for a home.
Even if you've ended up with a deck that is smaller than your liking, there are many ways to create the perfect outdoor space with a small deck or concrete patio. In fact, some of the benefits of having a small deck are that they are much more budget-friendly to completely transform the space than a large deck.
We put together a list of the best 18 small deck ideas that are perfect for any home.
1. Outdoor Dining Deck
One of the easiest things to do to your outdoor space is to add a table and chairs for outdoor meals. You can find a variety of table sizes, including small ones that seat just two, giving you options to find the perfect size for your small deck.
2. Build A Pergola Over Your Deck
Pergolas are another excellent way to add to your small backyard deck. One of the best things about a pergola is that it allows for some shade throughout the day but also doesn't take sunshine away completely the way a true cover would. A pergola is the perfect mix of sun and shade.
Add vines and string lights to bring your pergola to life!
3. Outdoor Kitchen Deck
If you're one for hosting, an outdoor kitchen is the perfect way to elevate your backyard. One of the greatest benefits of the building process on a deck is that you have easy access to utilities.
4. Simple Backyard Deck
Two small chairs and a coffee table are all you need to create a cozy corner for company on your small deck.
5. Add Lighting
Nothing compares to the warm yellow glow of string lights gently illuminating a small backyard deck in the evening. This is especially easy if you already have a pergola or other tall structure. String lights are great for small spaces because they don't take up any deck space, and look great with any deck design.
However, you can build planters that double as posts for hanging lights. This allows you to place them wherever you prefer and gives you planters! Add some flowers to create the perfect place for hosting.
6. Add A Gas Fire Pit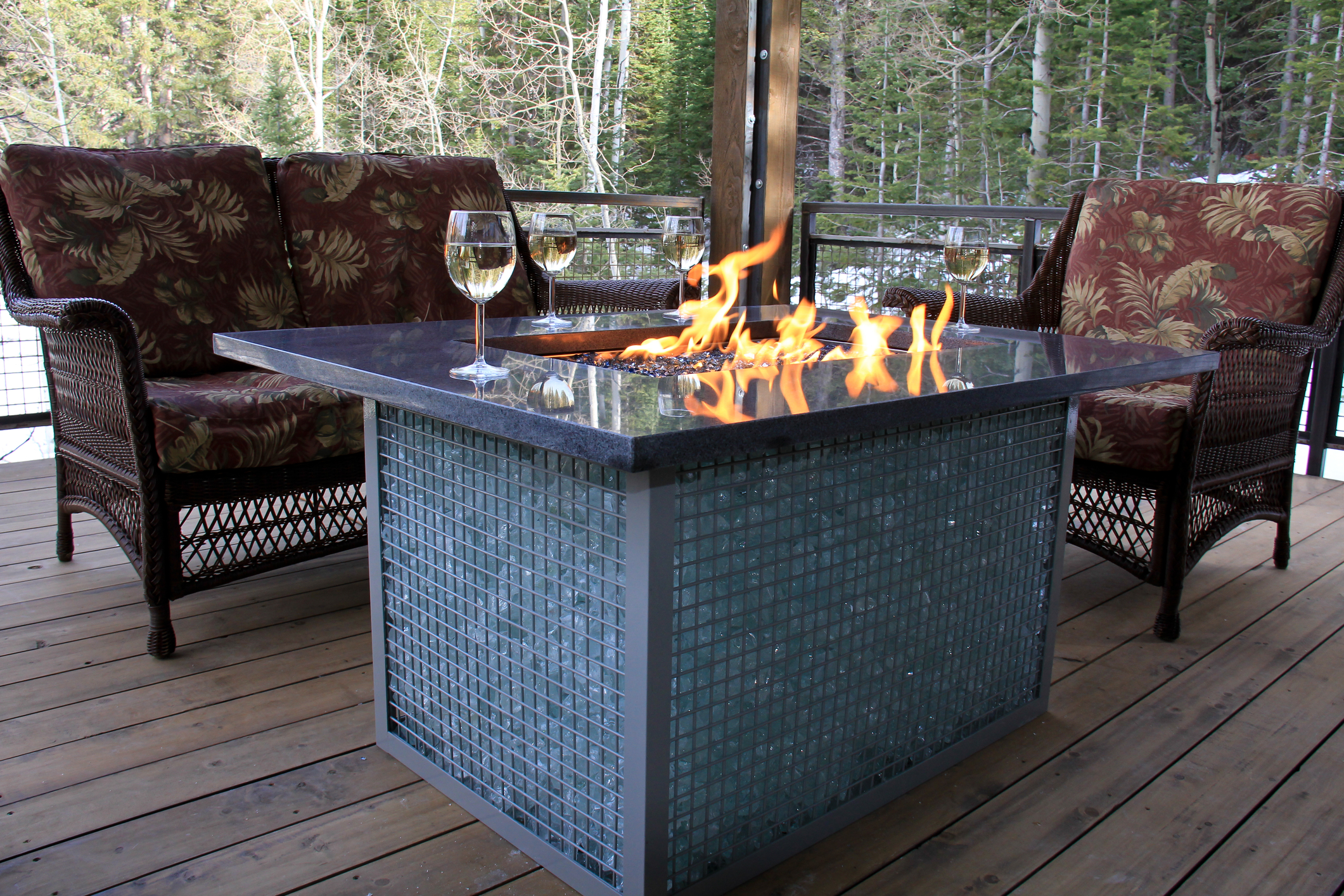 For chilly evenings or added ambiance, a patio fire pit is a perfect addition to your small space. You can start your fire as easily as a flip of a switch to create a cozy seating area instantly. Too warm for a fire? Use your gas firepit as a coffee table. Many of them come with covers.
And if your small deck has a cover, you can enjoy a fire anytime.
Although there is something nostalgic about the smell and sound of a wood-burning fire pit, they are not safe to put on wood and composite decking due to embers and high temperatures.
7. Fill It With Plants
Nothing brings a space to life as quickly as lush greenery. Assorted pots, plants, and flowers are an easy way to brighten up your space.
And, if your small deck is already covered you can add greenery by using hanging baskets, without taking up floor space.
Adding plants to your backyard deck is also a great option for people who have small yard, but want a variety of greenery and flowers.
8. Add a Privacy Screen
Whether neighbors are too close or fences too low, adding privacy screens to your outdoor space is the perfect solution. It keeps it cozy and allows you to add some style to the area.
You can stain the screen to match your wood deck or keep contrasting colors. Privacy screens also allow for hanging planters, lights and lanterns, and outdoor hanging art.
9. Use Trees to Make a Privacy Wall
There's no better way to spend time outdoors on your small deck than to be surrounded by a variety of natural greenery. It's the perfect way to add privacy and provide shade throughout the day.
10. Build a Covered Deck
Building a covered deck requires more planning and a bigger budget, but it makes your deck perfect for year-round use. Shade and protection from rain and snow keep this a relaxing place for the whole family.
Having a covered deck is also a great way to protect furniture and decor from harsh elements.
11. Add Some Shade
Whether it's 100 degrees out or a little too sunny, adding some shade or a shade option is one of the best things you can do for your small deck. Sun shade sails come in a variety of shapes, sizes, and colors.
Umbrellas are another great choice, especially if the main focus of your small deck is a dining area.
12. Provide Versatile Seating Options
Compact seating with multiple configurations is one of the best ways to make the most out of your outdoor living space. There are many options on the market offering different features, such as fold-away tables and compact storage.
Any versatile compact seating is a great option when furnishing your small space. If you move frequently, these are sure to work in nearly any deck due to their versatility.
This set from PlowHearth offers an excellent way to maximize seating in a limited space.
13. Container Garden Deck
An assortment of flowers can bring beautiful color to your wood deck, especially if your backyard doesn't have space for a garden. Flower pots lining the stairs make for an inviting entryway.
You aren't limited to flowers either. Many varieties of fruits and vegetables grow well potted.
14. Add a Hanging Chair
Hang with friends and family, literally. These chairs turn any small deck into a space where people want to be. They create the perfect spot for casual entertaining in any backyard.
15. Room For One
A single chair with a few cozy accents turns this tiny space into the perfect spot for morning coffee or a place to unwind in the evening.
16. Built In Seating Deck
Built-in benches add boundaries to your deck and are a great way to define your living space. The perimeter seating allows you to skip buying patio furniture and leaves open space on a deck that has limited room.
It also acts as a railing if you have a raised deck. Built in planters give you everything you need for a low maintenance small deck.
17. Use a Table With Benches
A table with benches is an excellent way to save space and provide extra seating on small deck designs. Unlike chairs, most benches can be pushed entirely under the table, so you don't have armrests and chair backs taking up space around your table. You can even find benches with built-in storage.
18. Add A Rug
Bring the feeling of indoors out. Wood decks are great, but covering a portion of them with a colorful rug can bring your interior design outdoors. Matching pillows and blankets turn small decks into something that feels completely new.
19. Maximize Comfort With Throw Pillows and Blankets
There's no quicker way to create a homey space than to add throw pillows and blankets to your deck. Pillows and blankets take up no additional square footage, leaving enough space on the rest of your deck for other furniture and decor.
Key Takeaways
A small deck design doesn't have to keep you from having the backyard space that you want. One of the great things about small decks is they are much more affordable to furnish. Outdoor pillows, throw blankets, and rugs are great options to make your deck feel complete.
Whether you have a two tiered deck or a floating deck, these small deck ideas will give you a transformation that will make your old deck feel brand new!