Landscaping is the perfect way to add curb appeal. Options for landscaping ideas are endless, and you don't have to have a landscaping professional to transform your front yard.
There are plenty of DIY front yard landscaping ideas out there, and we've put together a list of the best, cheap and simple front yard landscaping ideas on a budget!
Flower Beds
Nearly every home has some sort of flower bed. However, what once was filled with colorful flowers may be overgrown and covered with weeds. Bushes and shrubs may be out of control and covering up parts of your house.
Cleaning up a flower bed can take lots of time and work, but it is well worth it once you are able to fill it with new plants.
Flower Pots
Whether it's space, tree roots, or large bushes, you might be in the group that doesn't have front yard beds, or they are already established with shrubs that have large roots. In this case, flower pots and planters can be a quick solution.
One of the best things about using planters and flower pots is that you have the flexibility to choose size and location. Another great benefit is that you can move them around your front yard as you please.
Your landscaping doesn't have to stay solely in the grassy areas of your yard either. Adding planters to your front porch is another excellent way to add greenery and boost curb appeal!
Window Boxes
Window boxes are a beautiful addition to any home and a great alternative to flower beds. Trailing flowers look especially pretty as they overflow the basket.
The cost for these can vary depending on size and material. A great way to find them at a discounted price is by checking local thrift stores, yard sales, or online forums.
Make sure that you have easy access to the baskets for watering. Window boxes are relatively shallow and will need frequent watering in warm temperatures.
Pressure Wash
Nothing gives a cleaner look than concrete which has gone from dingy gray to clean white. Years of dirt and sometimes moss make your driveway, pathway, and sidewalk look old.
Pressure washing is easy, and honestly, pretty satisfying. It's not limited to concrete either. It can also give fences and decks a new look.
However, depending on the area that you want to wash, prices for this project can significantly vary.
You can likely rent a pressure washer from your local home improvement store. Many stores have a few different types of pressure washers. Lots of them also have different rates for hourly, daily, or weekly use.
If you have a large area that you plan on washing, consider investing in your own. There are different models that come at different prices, but you would likely break even if you are renting for more than a day or two.
A final note on pressure washing is that you need to consider the cost of water. They hook up to your hose, and however much water you use, you'll find the additional cost on your next bill.
Cheap Landscaping Plants
Perennial plants typically return each year, which means over time, they become the most inexpensive plants.
Even though perennials return each year, it does not make them significantly more expensive at the time of purchase when compared to annual plants. Sometimes, perennials are even cheaper depending on the plants you are comparing.
Bulb flowers such as tulips, daffodils, and gladioluses are great flowers to plant because they return each year and produce bright, beautiful flowers.
Typically bulbs will be marked down at the end of the planting season. The great thing about this is that you can easily store bulbs year-round and plant them the following season. This is an excellent option if you are on a tight budget.
Regardless of the plant you are looking for, prices will vary based on your location and the time of year. The best thing to do when trying to fill your flower beds is to look at a few different stores to compare prices.
Many stores have a clearance rack of plants that didn't sell before their newest shipment arrived. Most of these plants need a little love and will perk up with some water, sun, and soil.
Be sure to check the tags for growing instructions and think about the garden design before you buy!
Spreading and ground cover plants grow rapidly, and you should leave space between them, so they have room to grow. On the other hand, some plants do not spread, but grow very tall.
Most of the starter plants will look around the same height at the store. Remember to pay attention when putting flowers in the ground. You don't want to hide shorter plants because you put tall flowers in front of them.
Tree Stump Gardening Ideas
Depending on size, removing a tree stump can be very labor intensive, or very pricy if you decide to pay to have it removed for you.
If you are keeping the tree stump, here are some ways to go from eyesore to eyecatcher!
Tree Stump Planter
If you have a large tree stump, creating a planter is a great option for you. They require some manual labor, but it's a great cheap landscaping idea. It's a task you can finish in a couple of hours if you have the right tools.
Hallowing out the tree will be the toughest part, but after that, it is as simple as drilling drainage holes and planting your flowers!
Create A Gnome House
For a small or medium tree, creating a gnome house is the perfect low-maintenance front yard project to involve the whole family.
You can find accessories like a front door or windows at most craft large craft stores. Building a roof, steps, or any other small feature is a great way to involve family members of all ages.
Planting a flower bed around your gnome house makes it come to life!
Make A Fairy Garden
Fairy gardens are another great tree stump gardening idea! And they aren't limited to tree stumps either. Upcycle an old, broken pot for a budget friendly garden that you can move anywhere!
Outdoor Lighting
Adding lighting to your front yard is another great way to boost curb appeal. Lighting the path to your front door or along your driveway is not only great for guests stopping by at night, but they give your home a welcoming glow.
Lighting this area is also a great way to draw attention to small flower beds that may be edging your path and driveway.
Front porch lights are another easy addition to your front yard landscaping. String lights are a simple one-time investment and simple to install. They can stay up year-round and give your home a modern and cozy look.
Mailbox Landscape
Your mailbox is something everyone sees when they walk or drive by your house. Mailbox landscaping is an easy front yard project to boost curb appeal. And it isn't limited to making a flower bed around your mailbox.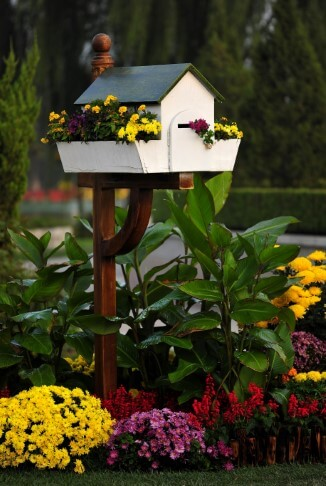 There are many options to add curb appeal around your mailbox by adding potted plants, hanging baskets, and mailbox toppers.
If you decide to dig a flower bed, the good news is that you only need to make a small one in the area immediately surrounding your mailbox.
Rock Garden
Rock gardens are one of the best DIY front yard landscaping ideas on a budget because they are another one-time investment.
Another great thing about rock gardens is that you can put them in any pattern or design, and can change them as often as you like. Rocks also act as a barrier to weed growth, meaning you can spend less time weeding.
Key Takeaways
You don't need a professional landscaper to spruce up your front yard. There are cheap and simple front yard landscaping ideas that can transform your yard for a fraction of the price.
Creating and maintaining flower beds is one of the best things you can do when it comes to giving your front yard and clean look. For less work, potted flowers and plants can go a long way in bringing your front yard to life and boosting curb appeal.
Outdoor lighting, creative DIY projects, and rock gardens are the perfect easy landscaping ideas to give your yard a complete makeover!